Review: Eternal Kiss of Darkness
Series: Night Huntress World – Book 2
Author: Jeaniene Frost
No of Pages: 361
Release Date: 27 July 2010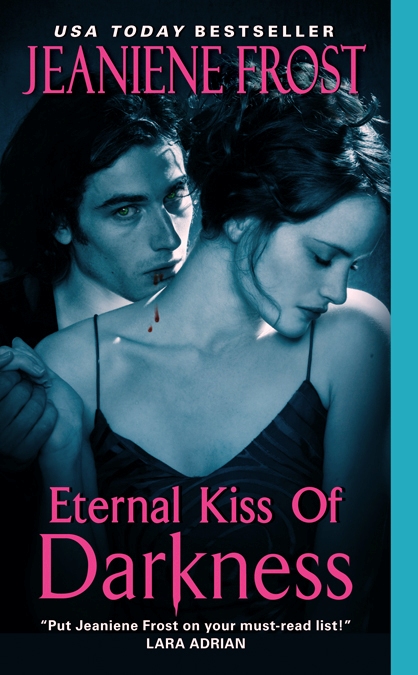 AN IMMORTAL WAR HAS BEEN BREWING IN THE DARKNESS...
AND NOW ONE WOMAN HAS STUMBLED INTO THE SHADOWS.
Chicago private investigator Kira Graceling should have just kept on walking. Bur her sense of duty refused to let her ignore the moans of pain coming from just inside a warehouse just before dawn. Suddenly she finds herself in a world she's only imagined in her worst nightmares.
At the centre is Mencheres, a breathtaking Master vampire who thought he'd seen it all. Then Kira appears – this fearless, beautiful...human who braved death to rescue him. Though he burns for her, keeping Kira in his world means risking her life. Yet sending her away is unthinkable.
But with danger closing in, Mencheres must choose wither the woman he craves, or embracing the darkest magic to defeat an enemy bent on his eternal destruction.
My Thoughts:
Kira was only trying to help when she "rescued" Mencheres from the pack of ghouls attacking him. Little did she know that it would get her tangled up in a supernatural world that she had no idea existed, or into the arms of a four thousand year old vampire.
Kira is a beautiful addition to Frost's world. She is a hardened private investigator who isn't fazed by anything; let alone accepting the existence of vampires. Kira was believable in everything she did, she believed the story because it ended up being logical to, she took it all in her stride not because she is amazingly empathetic but because she knew any other course of action, any rebelling on her part, would end in her death.
She also took in being made into a vampire into her stride as well. Knowing that if this was how she was to live from now on, she would do it with a conscience and she would do it because living meant something to her.
Then we bring in Mencheres, the super-powerful, four thousand year old, slightly suicidal ex-pharaoh of Egypt and current co-ruler to his and Bones combined lines. Mencheres has lost his power to see the future; all he can see is darkness which he believes is his impending death. He's old, he's tired and he's weary of the cold war going on between him and his arch-enemy Radjedef.
Eternal Kiss of Darkness
was packed full of anticipation surrounding Radjedef framing Mencheres for a crime that carries the death penalty within the vampire world and the race against time for Mencheres and Kira to clear his name.
The relationship between Kira and Mencheres was beautiful and very well done; both with similar pasts of betrayal are astounded by their feelings for each other. It was also mildly frustrating in a good way with the amount of times they were interrupted, so when they finally came together for that all important ceiling sex, it was so worth it.
Cat and Bones made an appearance in
Eternal Kiss of Darkness
, although they weren't painted in a good light which kind of disappointed me even though it was understandable from the history between them and Mencheres. Vlad also made an appearance which made me fall that much more in love with him and his humorous ways.
As with
First Drop of Crimson
, the cover disappointed me with
Eternal Kiss of Darkness
it didn't seem related to Mencheres at all and Kira was blonde.
Frost blew me away with her writing once again. Although I am not as fond of the Night Huntress World books as I am of the Cat & Bones books,
Eternal Kiss of Darkness
is a wonderful addition to my collection of her work.
Also in this series:
First Drop of Crimson