Review: Nice Girls Don't Live Forever
Series: Jane Jameson – Book 3
Author: Molly Harper
No of Pages: 324
Release Date: 29 December 2009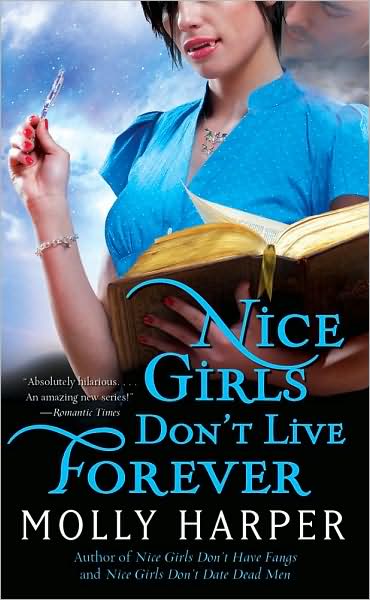 UNEXPECTED UNDEAD BREAK-UP
Nothing sucks the romance out of world travel like a boyfriend who may or may not have broken up with you in a hotel room in Brussels. Jane Jameson's sexy sire Gabriel has always been unpredictable, but the seductive, anonymous notes that await him at each stop of the international vacation, coupled with his evasive behaviour over the past few months, finally push Jane onto the next flight home to Half Moon Hollow – alone, upset, and unsure whether Gabriel just ended their relationship without actually telling her.
Now the children's-librarien-turned-vampire is reviving with plenty of Faux Type O, some TLC from her colourful friends and family, and her plans for a Brave New Jane. Step One: Get her newly renovated occult bookstore off the ground. Step Two: Support her best friend, Zeb, and his werewolf bride as they prepare for the impending birth of their baby…or litter. Step Three: Figure out who's been sending her threatening letters, and how her new hostile pen pal is tied to Gabriel. Because this nice girl, surviving a broken heart is suddenly becoming a matter of life and undeath…
My Thoughts:
Jane just keeps getting better.
Jane gets off the plane after possibly, maybe being broken up with by her boyfriend Gabriel, but she's not entirely sure if they have officially called it quits yet. What spurred her final decision was the need to get back to her shop which has been broken into and trashed, Gabriel's lack of interest only made it that much easier. Now she has to deal with her best friend's pregnant wife, and an extremely irritating relative of Dick and Mr Wainwrights.
Jane continues getting better and better. She swoons, and she isn't ashamed of swooning, but she refuses to be a doormat, and actually follows through with that unlike so many women in fiction who are getting walked all over without even realising it and spouting about how they are emancipated beings and all that. Jane says no to Gabriel and although she has all of the normal reactions in crying, bingeing on junk and sappy girl movies she doesn't go running back to Gabriel as soon as he snaps his fingers and I absolutely love it.
Dick is also only getting better as we see more of him, he is tender hearted and treats Jane like a sister, but still is able to turn around and make jokes at her expense – come to think of it, like a sister – he is also the one who really helps Jane through her breakup by identifying her male tendencies, so he takes her out to get blind drunk and in a fight which is exactly what I would do. Dick is also showing another side of himself when around Andrea and although we are seeing through Janes eyes, we can clearly see how much he loves her in his actions.
Harper's writing is only getting funnier as far as I am concerned, I had more laugh out loud moments with this book than I had with the previous two, only not by much. Harper's writing is consistently good, drawing you in with wit and feeding you enough drama so that you won't let go.
I also love how Jane's world is kept within Jane's world, the scene has been set in Half Moon Hollow and the story stays there, Janes vacation was out of the picture and we only re-joined the story after she got back, it makes for easy reading because I already have the layout in my head rather than creating a whole new set.
Jane's stories are comfortable and funny. I know I can dive in and be faced with life threatening situation in an easy, hilarious way. There is no heaviness that comes with this story, you go in feeling like crap and you come out happy, you go in happy and you still come out happy which is exactly why I can't wait for the next book in this series because Jane Jameson is good for a laugh.
Also in this series:
Nice Girls Don't Have Fangs
Nice Girls Don't Date Dead Men