Review: Hex Hall
Series: Hex Hall – Book 1
Author: Rachel Hawkins
No. Of Pages: 323
Release Date: 3 March 2010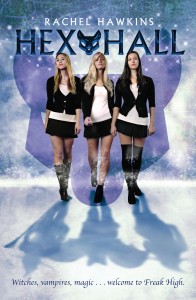 When sixteen-year-old Sophie Mercer discovers she's a witch, she imagines like will be full of magic, fun and...well...broomsticks! But her first attempt at a love spell goes disastrously wrong and, as punishment, Sophie is shipped off to Hecate "Hex" Hall, a reform school for witches, shape shifters and faeries.
By the end of her first day among her fellow freak-teens, Sophie has quite a scorecard: three powerful enemies who look like super-models, a futile crush on a gorgeous warlock, a creepy tag-along ghost, and a new roommate who happens to be the most hated person on campus and the only vampire.
Worse, Sophie soon learns that a mysterious predator has been attacking students and her only friend is the number-one suspect...
My Thoughts:
When I first opened Hex Hall I felt Harry Potter, by the middle I felt Evernight and by the end I felt something so spell bindingly interesting that it could only be unique.
Hex Hall is a magical school for delinquents. Not all Prodigium (magical beings) go there, only the ones that place the magical world in danger of exposure, like a fairy flying to catch the school bus, a werewolf losing control and eating someone or in Sophie's case, a love spell that caused her school formal to come to a crashing halt.
Sophie is a unique character, she knows some of what she can do, and practises! But she has not reached her full potential just yet. Sophie is quite normal for being a witch; she doesn't always have a snappy comeback and usually thinks of them after the fight is over. She gets scared like normal people do but can toughen up when the time comes.
The secondary characters weren't too fleshed out in Hex Hall but it didn't take away from the story, the coven was a nice touch, Sophie wasn't trying to be part of the bitchyness that came with who the coven were, no matter how many times they asked her to join, she continued to refuse. Watching the cat-fights between Sophie and Jenna and the Coven was interesting, and some of the pranks, although dangerous were quite unique.
I loved how Hawkins took the time to give the history of witch hunts and of the Prodigium without making it boring, I devoured the history parts.
The romance though, I'm not so sure. Archer Cross was described as "slender, almost to the point of skinny" and "strange guy who was not that hot". I couldn't understand how Sophie had a sudden flare up of emotion for him after being adamant about the not liking him factor, I mean, he's not even hot...
I devoured Hex Hall just because it was completely enchanting. Hawkins draws you into her world of mis-matched tables and psychotic gym teachers and won't let go until she gives you the final curve ball at the end, which I did not see coming at all.
Hex Hall would have been an awesome stand-alone book as it didn't stick to normal YA clichés and didn't leave you with an airy-fairy feeling at the end, but one that makes you think long and hard about possible repercussions of one's actions and people actually getting their come-uppance in the end.
I originally thought Hex Hall was a stand-alone, and with the ending (cliffhangerish) it left a lot of room for thought, but then I found out that there was a second book in what is supposed to be a trilogy. So we might get some whacked HEA after all.
Others in this Series:
Demonglass
Reviews by Others:
I Just Want to Sit Here and Read
Sarah's Book Reviews
Available at:
Amazon
Book Depository