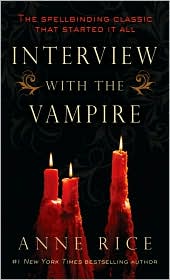 It isn't often that I give up on a book but I just couldn't get there with
Interview with the Vampire
. I think my main reason for giving up on the book is the very heavy descriptions of absolutely everything. I mean it took an
entire
page for Louis to look at a window which for me was a little too much.
The characters were a little boring, yet interesting in their own unique ways. I will say my favourite character was Claudia, who ever knew that a child could be
that
evil. Although Louis was narrating, I found him to be quite boring not in the way that he wanted to be "good" but because he never seemed to do anything.
The lack of action on top of the heavy imagery is what brought this book down for me I got to page 200 and just couldn't go any further.