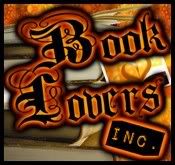 As you guys (hopefully) know, I am The Winged Lover over at
Book Lovers Inc
So I just wanted to let you know what's been going on this past week.
We had a guestpost from the lovely Carolyn Crane in which she talks about the significance of names in books - including how English words or names can mean something
completely
different in other languages. There is also the chance to win one of her books! Mind Games or the recently released Double Cross.
Wednesdays review was of The DUFF by Kody Keplinger for YA Wednesday.
And as always we had our weekly Book News and Comments Giveaway on Friday.
We also had our debut of Smutty Saturday a new feature devoted to our recently discovered mutual love of smut. This week we also told the stories of our "First Times" when it came to Smut.
So that's what happened this week (among other things) over at BLI