Review: One Grave at a Time
Series: Night Huntress – Book 6
Author: Jeaniene Frost
No of Pages: 358
Release Date: 30 August 2011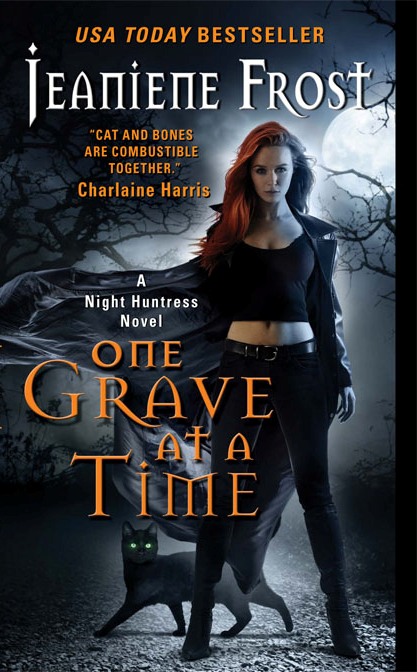 HOW DO YOU SEND A KILLER TO THE GRAVE WHEN HE'S ALREADY DEAD?
Having narrowly averted an (under) World War, Cat Crawfield wants nothing more than a little downtime with her vampire husband, Bones. Unfortunately, her gift from New Orleans's voodoo queen just keeps on giving – leading to a personal favour that sends them into battle once again, this time against a villainous spirit.
Centuries ago, Heinrich Kramer was a witch hunter. Now, ever All Hallows Eve, he takes physical form to torture innocent women before burning them alive. This year, however, a determined Cat and Bones must risk all to send him back to the other side of eternity – forever. But one wrong step and they'll be digging their own graves.
My Thoughts:
There is just something about this series that makes it so fantastic.
After Cat's uncles passing Cat has had to grieve and then deal with an upheaval in the team that he used to head. Her friend Tate has been demoted from the top job and replaced by someone who obviously has a problem with the all vampire team. Cat now has to deal with the new guy poking into her business while having to go up against a psychopathic homicidal ghost running rampant on Halloween.
Cat is still amazing, but she isn't quite as brilliant as what she was in the first four books. She is still smart talking, still completely ass kicking fantastic. But now she is just Cat. We've seen all of her tricks, but what now?
I will be honest that I am getting scared for the rest of this series. The first five books were absolutely tongue tying-ly brilliant. But this one? It was a little on the stale side. There was even a scene with awkward dialogue in it.
Then there was also the sex scene. We've gone from the infamous
Chapter 32
which was absolutely amazing, to some half-assed sex in the sky. It could have been as fantastic as the
Eternal Kiss of Darkness
ceiling scene, but it had a bit of a bore factor to it.
I am even having some trouble remembering the great scenes from this book, it's just not as hard hitting, and I worry if this is a preview into how the rest of the series is going to go, we still have three books left and I want them to be as awesome as the first half of the series was.
One Grave at a Time
was missing the X factor that the other books Frost has written have. It was just going through the motions. Bones was there, ghosts were there, friends were there, Cat was there. Stuff happened but meh.
I want to love this series, I want to love this book as much as I loved the others but I just couldn't. Don't get me wrong, this book is still absolutely brilliant. But it's not on par with the rest of the series, it's great, but it's not excellent, it's not of the same calibre. Frost set the bar very high, and I hope she can reach it with the next book.
Other books in this series:
Halfway to the Grave
One Foot in the Grave
At Grave's End
Destined for an Early Grave
This Side of the Grave