Review: Frostbite
Series: Vampire Academy – Book 2
Author: Richelle Mead
No of Pages: 327
Release Date: 10 April 2008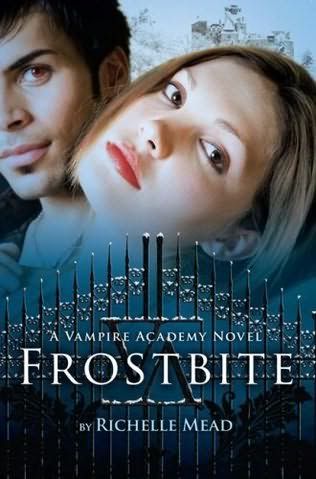 WHEN LOVE AND JEALOUSY COLLIDE ON THE SLOPES, WINTER BREAK TURNS DEADLY...
Rose Hathaway's got serious guy trouble. Her gorgeous tutor Dimitri has his eye on someone else, her friend Mason has a huge crush on her, and she keeps getting stuck in her best friend Lissa's head while she's making out with her boyfriend, Christian.
Then a massive Strigoi attack puts St. Vladimir's on high alert, and the academy crawls with Guardians - including the legendary Janine Hathaway...Rose's formidable, long-absent mother. The Strigoi are closing in, and the Academy's not taking any risks. This year, St. Vlad's holiday ski trip is mandatory.
But the glittering winter landscape and the posh Idaho resort only provide the illusion of safety. When three students run away to strike back against the deadly Strigoi, Rose must join forces with Christian to rescue them. Only this time, Rose - and her heart - are in more danger than she ever could have imagined...
My Thoughts:
Once again we are taken on a spell binding journey thanks to Mead's wonderful storytelling.
All Moroi are in danger as we finish the first few chapters of Frostbite. Rose herself witnesses the aftermath of a horrific Strigoi attack on an unsuspecting Moroi family. Worse still is that it is a royal family, and the note written in blood found at the scene suggests that the Strigoi are deliberately picking off the royals, which doesn't do much for Rose's peace of mind as Lissa is the only Dragomir (Dragomir's are royal) left.
So the whole school and quite a few other Moroi take refuge in a heavily guarded, highly exclusive ski resort. Rose and her friends gear up for a week of skiing, dancing, relaxing fun. Until a couple of her friends take off after some Strigoi...and one ends up dead.
Again I absolutely loved Rose. Witnessing the attack at the beginning of the book cooled her down a bit and snapped her out of the heroism thoughts of thinking that she could take down six Strigoi, by herself. Unfortunately it didn't cool down some of her friends.
We saw more of the other characters in Frostbite as well. Mia made her return once again causing trouble for Rose and Lissa. As we were sucked into Lissa's head more often we got to see her way of thinking a little more. Christian was excellent in this book, caring for Lissa whilst still being quite witty and helping Rose out when she needed him. Dimitri...was after another woman...but still as hot as ever. And then we have Adrian.
Ahh, Adrian, give me a moment while I swoon. Although there are mixed opinions about Adrian's character, I love every bit of it. He is a male version of Rose, stubborn, witty, vulgar, self-confident and absolutely hilarious.
Rose also tried to move on from Dimitri, which is commendable because it doesn't make her a swooning teenager which are so often left with.
Frostbite was of the same calibre as Vampire Academy, if not better as the story heats up.
Others in this series:
Vampire Academy
Shadow Kiss
Blood Promise
Spirit Bound
Last Sacrifice